Our customized A-Frames allows you to change one sign frame into a graphic panel sign, tamper resistant message board, or poster holder in a matter of minutes. Our sign products hold up in all types of weather conditions.   Whether your business or group needs to promote a product, service, event, or hire help, our portable message boards are sure to get the attention you require.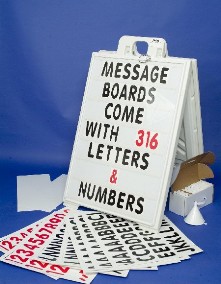 Our SignTrax Message Board is sold with or without Acrylic Covers.  It is available in seven frame colors - White - Black - Red - Green - Blue - Yellow Orange.     Each package comes with two 24" x 36" letter track panels with strips attached, 316 letters, numbers and characters, two blank logo inserts and a box -divider tab kit.
Available A-Frame Colors:
White - Black - Red - Green - Blue - Yellow - Orange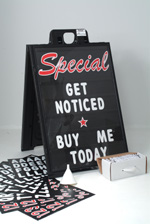 Our Message Boards with or without the Acrylic Cover is a terrific sidewalk sign product allows users to change from graphic panels to a message board - and back again - in seconds!    The Rail System with its top locking pin allows you to add acrylic covers and a padlock to lock up your message or graphic panels from the weather or vandals.